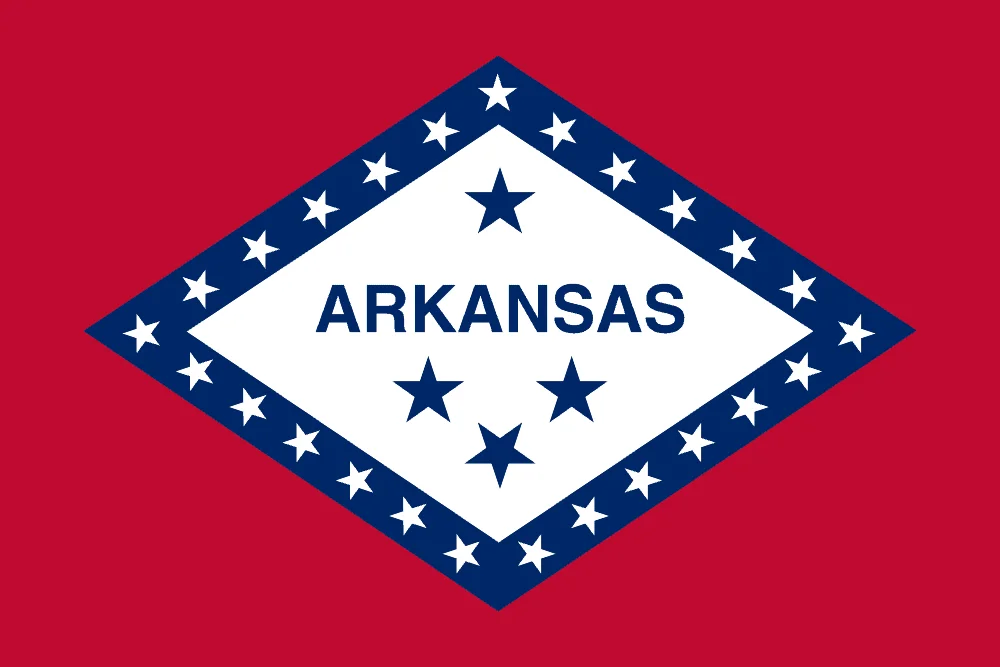 Facts, history and meaning about the flag of Arkansas
The state flag of Arkansas features a diamond shape on a red field, with a blue border around the diamond. The diamond is meant to symbolize the state's diamond mining history and the state's nickname, the "Natural State". The four blue stars within the diamond represent the state's major geographic regions, including the Ozarks, the Delta, the Ouachitas, and the Coastal Plain. The white color of the stars represents the state's inclusion in the Confederacy during the Civil War.
Above the diamond, the flag features the state's name, "Arkansas", in blue capital letters. Below the diamond, the state's motto, "Regnat Populus", is also written in blue. This Latin phrase means "The People Rule" and reflects the state's commitment to democratic values.
The current design of the flag was adopted in 1924, although it underwent some minor revisions in subsequent years. Prior to that, the state had used a number of different flags, including versions that featured the state seal on a field of blue or white.
The state flag of Arkansas is an important symbol of the state's identity and history. It is flown at government buildings, schools, and other public places throughout the state. The flag is also used to represent Arkansas at national and international events.
Overall, the state flag of Arkansas is a simple but meaningful representation of the state's values and heritage. Its design reflects the state's diverse geography and history, and it has become an important part of Arkansas's identity over the past century.
---
You'll find all the world flags on our start page.
Or browse some more U.S state flags here.
Find out more about Arkansas on Wikipedia. You will allways learn something new!
Arkansas flag coloring page
Printable coloring page
We have not yet added the coloring page for the flag of Arkansas. You can request it if you want!
Arkansas flag, printable
Download and print the flag of Arkansas
You can download the image of this flag. The file format is PNG.
Flags that look like the Arkansas state flag