Facts, history and meaning about the flag of Cambodia
Cambodia is located in Asia.
The official ISO 3166 code for Cambodia is:
kh

The Cambodian flag was adopted for the first time on October 20, 1948, and once more when the monarchy was reintroduced due to a referendum in 1993.
The flag is horizontally divided by two narrow blue bands on the borders and a red field in the middle, with a white depiction of Angkor Wat.
The white color symbolizes the Buddhist religion. The previous flags of the country showcase the nation's eventful history, since a new version of the flag has been created for each new Cambodian leader. Ever since the 19th century, the flag has displayed a picture of the temple Angkor Wat in the center.
The flag was adopted as a national flag by changing the vertical stripes to horizontal ones following the fall of the French colonial empire in 1948. This previous flag was used until the civil war, when Lon Nol came to power and introduced a new flag. The 1948 flag was again taken into use when the monarchy was reinstated in 1993.
---
You'll find all the world flags on our start page.
Or browse some more flags from Asia.
Find out more about Cambodia on Wikipedia. You will allways learn something new!
Cambodia flag coloring page
Printable coloring page
Coloring page for the flag of Cambodia. Print it and fill it with colors! Perfect entertainment for the kids or in school. The coloring page is a PDF-file that is ready to use in a printer.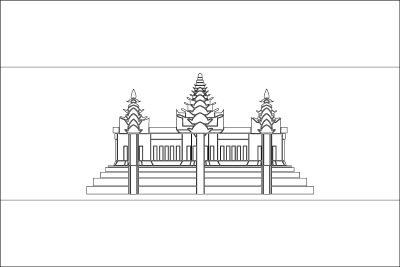 Cambodia flag, printable
Download and print the flag of Cambodia
You can download the image of this flag. The file format is PNG.
Flags that look like the cambodian flag