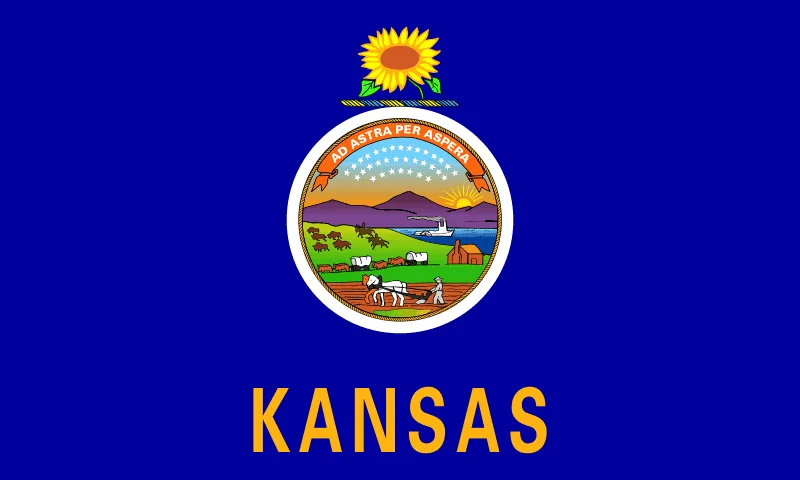 Facts, history and meaning about the flag of Kansas
Kansas is known as the "Sunflower State" and its state flag captures the essence of its nickname with a bright sunflower in the center. The sunflower on the flag is encircled by a blue and gold band, which represents the sky and the state's abundant wheat fields, respectively.
The state flag was first adopted in 1927 and has remained unchanged since then. It was designed by Hazel Avery, a Kansas native who was a member of the Daughters of the American Revolution.
The sunflower on the flag is not just a pretty image, it also has historical significance. Sunflowers are a common crop in Kansas and were introduced to the area by Native Americans who used them for food, medicine, and dye. Today, Kansas is one of the top sunflower-producing states in the country.
The blue and gold colors on the flag represent the state's history and natural resources. Blue is a symbol of Kansas' history as part of the Union during the Civil War, while gold represents the state's vast wheat fields and the sun that shines down on them.
As you explore Kansas, keep an eye out for the state flag flying proudly throughout the state. It's a reminder of the natural beauty and rich history of this great state.
---
You'll find all the world flags on our start page.
Or browse some more U.S state flags here.
Find out more about Kansas on Wikipedia. You will allways learn something new!
Kansas flag coloring page
Printable coloring page
We have not yet added the coloring page for the flag of Kansas. You can request it if you want!
Kansas flag, printable
Download and print the flag of Kansas
You can download the image of this flag. The file format is PNG.
Flags that look like the Kansas state flag