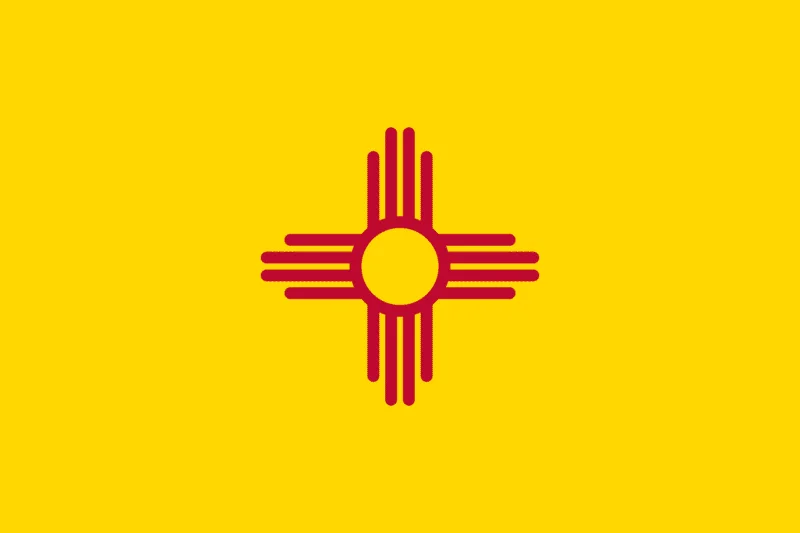 Facts, history and meaning about the flag of New Mexico
The state flag of New Mexico is a colorful and unique representation of the state's history and culture. It features a vibrant yellow background with a red sun in the center, surrounded by four groups of rays, each consisting of four rays.
The design of the flag is based on the Zia sun symbol, which has been used by the Zia Pueblo Native American tribe for centuries. The symbol represents the four directions, the four seasons, the four stages of life, and the four elements: earth, air, fire, and water. The Zia people believe that the sun symbol is sacred, and its use on the flag is seen as a symbol of respect for their traditions.
The red and yellow colors of the flag are also significant. They are the colors of the flag of Spain, which once ruled New Mexico as part of its colonial empire. The colors were adopted as a tribute to the state's Spanish heritage.
The New Mexico state flag was first designed in 1920 by Dr. Harry Mera, a physician and archaeologist who was also an expert in Native American culture. Mera's design was selected from among 65 entries in a competition to design a new state flag.
The flag has remained virtually unchanged since its adoption, although some minor modifications were made in 1925 to standardize its design. It has become an enduring symbol of the state's unique history and culture, and it is displayed proudly by New Mexicans across the state and around the world.
---
You'll find all the world flags on our start page.
Or browse some more U.S state flags here.
Find out more about New Mexico on Wikipedia. You will allways learn something new!
New Mexico flag coloring page
Printable coloring page
We have not yet added the coloring page for the flag of New Mexico. You can request it if you want!
New Mexico flag, printable
Download and print the flag of New Mexico
You can download the image of this flag. The file format is PNG.
Flags that look like the New Mexico state flag