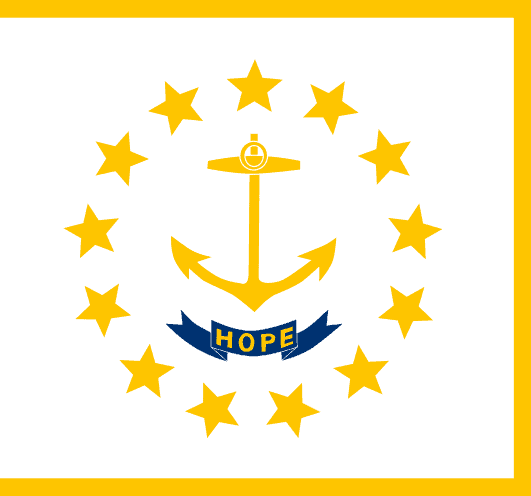 Facts, history and meaning about the flag of Rhode Island
Rhode Island's state flag is a beautiful and unique symbol of the state's rich history and maritime culture. The flag features a field of white with a blue anchor in the center, surrounded by 13 gold stars. The anchor is flanked by two gold banners, one with the state motto "Hope" and the other with the state's official name, "State of Rhode Island and Providence Plantations."
The anchor on the state flag is a symbol of Rhode Island's maritime history, which dates back to the colonial era. The 13 gold stars represent the original 13 colonies, of which Rhode Island was a part. The state motto "Hope" is a powerful reminder of Rhode Island's resilience and determination, particularly in the face of adversity.
Rhode Island's state flag was first adopted in 1897, and has remained largely unchanged since then. The flag is a beloved symbol of the state's identity and values, and is flown proudly at events and locations throughout Rhode Island.
Rhode Island is a state with a rich history and culture, from its early colonial settlements to its role in the American Revolution and beyond. The state flag serves as a reminder of this history and the state's important contributions to the nation and the world.
Overall, the Rhode Island state flag is a powerful and meaningful symbol of the state's heritage and values. Its unique design and rich symbolism make it a beloved symbol of the state and its people, and a source of pride for all who call Rhode Island home.
---
You'll find all the world flags on our start page.
Or browse some more U.S state flags here.
Find out more about Rhode Island on Wikipedia. You will allways learn something new!
Rhode Island flag coloring page
Printable coloring page
We have not yet added the coloring page for the flag of Rhode Island. You can request it if you want!
Download the flag
Download the flag of Rhode Island
You can download the image of this flag. The file format is PNG.
Flags that look like the Rhode Island state flag